New Featured Item: Lenina Huxley (Sandra Bullock) S.A.P.D. uniform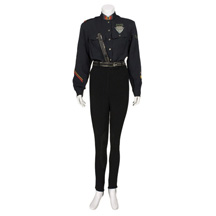 This futuristic "San Angeles Police Department" officer's uniform was worn by the character "Lenina Huxley" (Sandra Bullock) in the Sci-Fi film "Demolition Man" starring Sylvester Stallone and Wesley Snipes. The suit is in distressed condition from its use in action sequences and is accompanied by a letter of authenticity.
CLICK HERE FOR MORE DETAILED IMAGES AND PURCHASING INFORMATION
Leave a Reply
You must be logged in to post a comment.