New Featured Item: Jack Bauer (Kiefer Sutherland) complete costume from "24"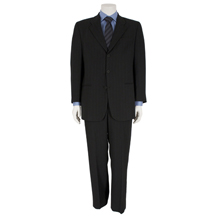 This complete costume change was worn by the character "Jack Bauer" (Kiefer Sutherland) in Season 4 of the award winning television series "24". Mr. Sutherland wore this Armani suit and shirt with tie notably in the opening episode and several subsequent key scenes later in the season.
CLICK HERE FOR MORE DETAILED IMAGES AND PURCHASING INFORMATION
Leave a Reply
You must be logged in to post a comment.