New Featured Item: Goldie Hawn custom jacket worn on "Rowan and Martin's Laugh-In"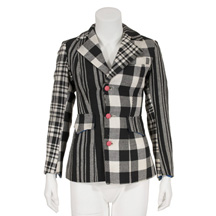 This Cotroneo custom jacket was worn by Goldie Hawn in the classic late 60's/early 70's TV show "Rowan and Martin's Laugh-In". The actress wore the jacket during a musical comedy sketch number that featured the entire cast in the second episode of Season 3. A great artifact from television history!
CLICK HERE FOR MORE DETAILED IMAGES AND PURCHASING INFORMATION
Leave a Reply
You must be logged in to post a comment.