New Featured Item: "Cmdr. Riker" (Jonathan Frakes) communicator/rank insignia worn on "Deep Space 9"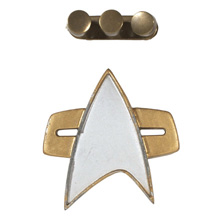 This prop communicator and rank insignia were worn in a rare guest appearance by "Star Trek: The Next Generation" character "Cmdr. William Riker" (Jonathan Frakes) on the show "Star Trek: Deep Space 9". In "Defiant" (Season 3, Episode 9), Riker appears aboard Deep Space 9 and commandeers a new starship before the crew DS9 crew realize he's actually Riker's double that was created in a teleporter malfunction from a previous episode of TNG.
CLICK HERE FOR MORE DETAILED IMAGES AND PURCHASING INFORMATION
Leave a Reply
You must be logged in to post a comment.