New Featured Item: "Capt. Aubrey" (Russell Crowe) signature costume from "Master And Commander"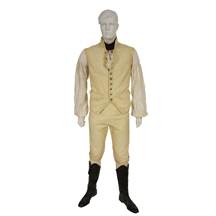 This costume was worn by "Capt. Jack Aubrey" (Russell Crowe) in the film "Master and Commander: The Far Side of the World". The actor wore this suit in different combinations throughout the film and is his signature wardrobe from the movie. A great gift for any serious film collector this holiday season.
CLICK HERE FOR MORE DETAILED IMAGES AND PURCHASING INFORMATION
Leave a Reply
You must be logged in to post a comment.