Featured Item: Tom Horn (Steve McQueen) period shirt worn in "Tom Horn"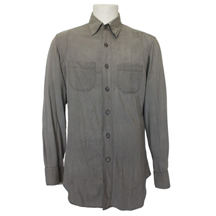 This period Western shirt was worn by legendary actor Steve McQueen in the title role of the film "Tom Horn". The garment was custom tailored for Mr. McQueen and is complete with the original costumer's label sewn to the tail with the actor's name typed in faded black ink.
CLICK HERE FOR MORE DETAILED IMAGES AND PURCHASING INFORMATION
Leave a Reply
You must be logged in to post a comment.