Featured Item: Mrs. Smith (Angelina Jolie) costume from "Mr. and Mrs. Smith"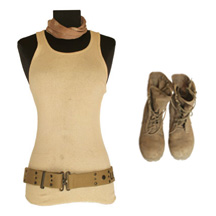 This partial costume was worn by "Mrs. Smith" (Angelina Jolie) in the movie "Mr. and Mrs. Smith". The outfit consists of a tan tank top, neckerchief, belt, and pair of desert boots. This is a rare artifact from the first film in which both Angelina and Brad Pitt worked together onscreen.
CLICK HERE FOR MORE DETAILED IMAGES AND PURCHASING INFORMATION
Leave a Reply
You must be logged in to post a comment.