Featured Item: George Jung (Johnny Depp) shirt worn in "Blow"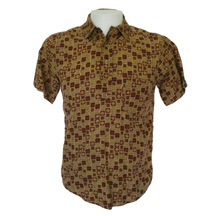 This short sleeve collared shirt was worn by the character "George Jung" (Johnny Depp) in the film "Blow". Mr. Depp wore this garment in a sequence early on in the film when his character first starts becoming involved in the drug smuggling trade.
CLICK HERE FOR MORE DETAILED IMAGES AND PURCHASING INFORMATION
Leave a Reply
You must be logged in to post a comment.