Featured Item: Custom made prop spear pistol used by The Mariner (Kevin Costner) in "Waterworld"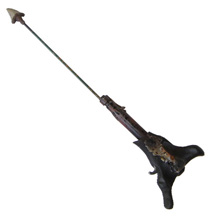 This unusual spear pistol prop gun was used by "The Mariner" (Kevin Costner) in the movie "Waterworld". The prop weapon with removable "shark tooth" spear was custom made for use on the production and appeared notably near the beginning of the film.
CLICK HERE FOR MORE DETAILED IMAGES AND PURCHASING INFORMATION
Leave a Reply
You must be logged in to post a comment.