Featured Item: Al Swearengen (Ian McShane) signature costume from "Deadwood"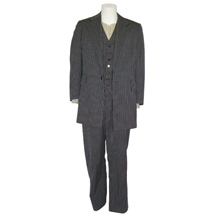 This complete signature costume change was worn by "Al Swearengen" (Ian McShane) in the cable television series "Deadwood", which ran from 2004 – 2006. This was Swearengen's primary wardrobe change that appeared in numerous episodes throughout all three seasons of the show and has his trademark "gold nugget" button on the front of the vest.
CLICK HERE FOR MORE DETAILED IMAGES AND PURCHASING INFORMATION
Leave a Reply
You must be logged in to post a comment.