New Featured Item: Background Gorilla Soldier costume from "Beneath the Planet of the Apes"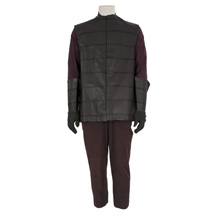 This set of wardrobe was worn by a "Gorilla Soldier" character in the classic science fiction film "Beneath The Planet Of The Apes" starring Charlton Heston. The outfit consists of a vinyl vest, gloves, purple shirt with matching pants, and is complete with original costume house labels sewn inside.
CLICK HERE FOR MORE DETAILED IMAGES AND PURCHASING INFORMATION
Leave a Reply
You must be logged in to post a comment.