Featured Story: Movember USA
Back during the 1920's and 30's, cigarettes were often described as the ultimate prop for film actors. They provided a certain element of mood and atmosphere to the scenes while adding a level of confidence and glamour to the characters. Much in the same way, there were something special about a well defined mustache in a film. The mere presence of the mustache told you everything you needed to know about the character and gave the actors a little extra dramatic muscle they could flex. Mustaches were like cigarettes for the face!
Take a look at some of these famous film characters and try to imagine them without their equally famous mustaches: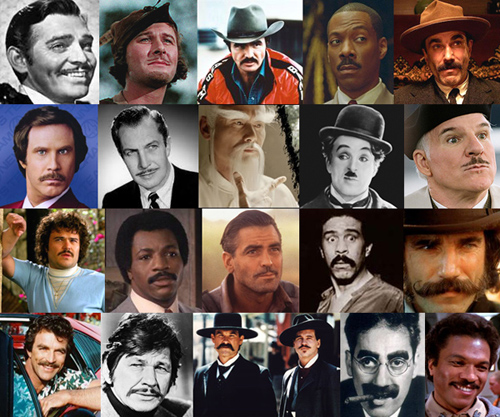 This month, The Golden Closet would like to salute and celebrate the rich film heritage of the moustachery while supporting Movember USA.
During November each year, Movember is responsible for the sprouting of moustaches on thousands of men's faces, in the US and around the world. With their Mo's, these men raise vital funds and awareness for men's health, specifically prostate cancer and other cancers that affect men, through charities like the Prostate Cancer Foundation and LIVESTRONG. The Golden Closet is proud to support this mo-vement to help raise awareness and spread the message.
According to the American Cancer Society, one in every six men will get prostate cancer during his lifetime, and one in every 36 will die from the disease. Behind lung cancer, prostate cancer is the second leading cause of cancer death in men.
Movember is an effort to change established habits and attitudes men have about their health, to educate men about the health risks they face, and to act on that knowledge, thereby increasing the chances of early detection, diagnosis and effective treatment. It's no secret. Men do not get regular health screenings and generally do not even talk about their health. It's time to change that mentality and, via the moustache, spark conversations and spread awareness of men's health issues.