Featured Item: Shao-Kahn (Brian Thompson) costume from "Mortal Kombat: Annihilation"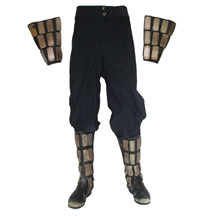 This set of costume wardrobe was worn by the arch-villain "Shao-Kahn" played by actor Brian Thompson in the 1997 motion picture "Mortal Kombat 2: Annihilation". These signature costume items were used in multiple scenes and action sequences from the film and will make a great addition to any collection of Mortal Kombat memorabilia.
CLICK HERE FOR MORE DETAILED IMAGES AND PURCHASING INFORMATION
Leave a Reply
You must be logged in to post a comment.