Featured Item: "Officer Danson" (The Rock) gun and holster set from "The Other Guys"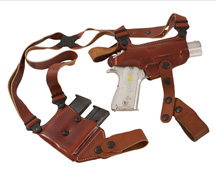 This prop stunt gun and leather holster set were used onscreen by "Offc. Christopher Danson" (The Rock) in the action comedy "The Other Guys". Danson used these items in the opening sequence and in multiple other scenes near the beginning of the film. A great signature prop from the film!
CLICK HERE  FOR MORE DETAILED IMAGES AND PURCHASING INFORMATION
Leave a Reply
You must be logged in to post a comment.