Featured Item: "Chimera Virus" prop vial from "Mission Impossible 2″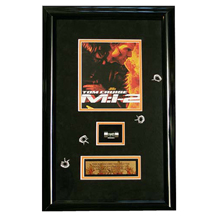 This prop vial housed the deadly "Chimera Virus" as seen in the film "Mission Impossible 2" starring Tom Cruise. The vial was custom made for use in the film and has been professionally framed for easy display. This is a great signature prop item from the first film in the M.I. franchise that will make an impressive centerpiece in any collection of screen used memorabilia.
CLICK HERE FOR MORE DETAILED IMAGES AND PURCHASING INFORMATION
Leave a Reply
You must be logged in to post a comment.