Featured Story: The restoration of Brad Pitt's leather work coat from LEGENDS OF THE FALL

Through our connections within the motion picture costuming industry, we reached out to seasoned costumer designer Richard La Motte to assist in the restoration process.
Mr. La Motte has been working within the costume industry for over 40 years, first working in the costume department at FOX studios in 1966 as an apprentice costumer. He trained with the "old timers" who had started their craft during the dawn of the golden age of cinema, in the 1930s. "When I started there weren't any professional 'Agers', and costumers did their own breaking down of costumes. That early training in both the importance and techniques of ageing helped me over and over again on shows like: "The Wind and the Lion", "Rambo III", "The Island of Doctor Moreau", "A Man Called Horse", "Gods and Generals", and even "Goonies", says La Motte.
Part of his training was to learn the skills of ageing and dyeing. He practiced with common tools like: dye, bleach, mineral oil, fuller's earth, sandpaper and more to help create character costumes. He applied those skills on such shows as: "Little Big Man", "Butch Cassidy", "Tora, Tora, Tora", "Planet of the Apes", and many more before getting his Designers card in 1973 (he was # 83).
THE DAMAGE:
Post production, the coat was dry-cleaned and the garment was stripped of the lexol, mineral, oil and other materials that were used to age the garment.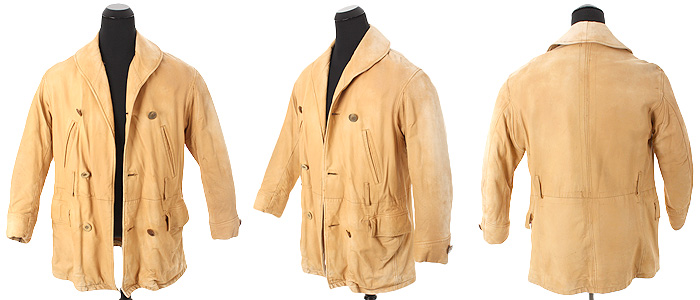 ASSESSMENT:
"My first concern about the coat was its material. It appeared to be made of soft lambskin, and while its drape was great, the skin itself was thin and wouldn't stand up to much heavy work without breaking the finish, so careful work was a must". says La Motte.
When comparing the coat to its pre-cleaning photographs, Mr. La Motte saw two main areas that needed work, "The left arm was severely sun faded as though it had hung in a window, and the coat in general was cleaned of all its ageing. To address the sun fading I had to try and return color to the sleeve. Whatever color I used had to be carried in some kind of liquid base. Paint would be too stiff, liquid leather dye would take too much mixing and testing to match the color of the coat body, oil would bleed and be hard to control causing staining, while spray dye might work but be a hard match. Dry color would be easier to mix and test, and water would be more forgiving to work with."
RESTORATION:
After careful consideration, Mr. La Motte chose to mix Rit dye and apply the color to the coat with a sprits bottle in layers, letting the coat dry after each application. That process proved successful and once the correct color was restored Mr. La Motte used 'Grease rags' (terry cloth with mineral oil and fuller's earth) and 'Pounce Bags' (dry fuller's earth shaken from a cheese cloth bag), as well as a little Magic color spray.
Mr. La Motte referred to several photos during the process, and from his experience, "the photographic lighting 'burns out' a lot of ageing and the coat was probably darker than the photos related." The process of restoration took place over two days and the finished product compares quite well to photographs of the original. In the end, the coat was restored, and Mr. La Motte's masterful skills are greatly demonstrated on his fine finishing touches.
CLICK HERE TO SEE THE FINAL PRODUCT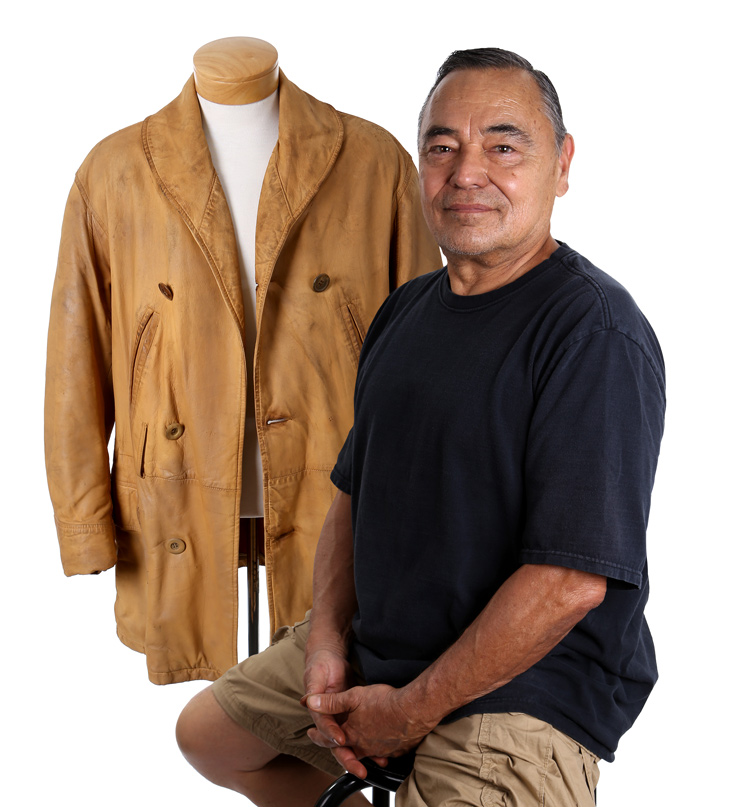 After years of experience and work in the costume industry, Mr. La Motte wrote his own costuming book in 2001, "Costume Design 101." Says La Motte, "I'm so happy that I was able to receive a lot of my costume education at the feet of those 'Old Timers', sadly today much of that knowledge is lost – that's why I devoted a section to ageing in my book, to try and pass on what had been passed down to me." He recently released a 2nd edition in 2010.
You can learn more about Richard La Motte through his website:
Also, whether you are a costume designer, collector, or film fan, we highly recommend that you purchase his how-to costume book, "Costume Design 101":
http://www.richardlamotte.com/pages/costumedesign.html
Comments are closed.