Axl Rose and Slash – Featured items
We have acquired signature items, jewelry and wardrobe pieces worn by  lead singer Axl Rose and famed guitarist Slash of the band Guns N' Roses.
Guns N' Roses nicknamed "The Most Dangerous Band in the World", are credited with reviving mainstream rock music in the late 1980s with such hits as "Welcome to the Jungle" and "Paradise City". Their debut album "Appetite for Destruction" (1987) reached number 1 on the Billboard 200 charts and sold over 28 million records worldwide, making it one of the best-selling debut albums of all time. It was their stage presence, style, music and rebellion that made Guns N' Roses in a league of their own and in 2012, the band members were inducted into the Rock and Roll Hall of Fame.
AXL ROSE
KEYCHAIN NECKLACE WORN IN "SWEET CHILD O' MINE" MUSIC VIDEO 
Includes three miscellaneous keys, a Hoffritz Swiss army knife, a silver whistle, and a medallion from "Ripleys Believe it or Not" with "Still Alive and Well, Rock On Axl" pressed on the face of the coin and "Fisherman's Wharf S.F." on the verso.
Axl can be seen wearing this necklace in the 1987 music video "Sweet Child O' Mine" while performing on a ballroom stage. The item is most visible in the beginning of the song and is worn throughout as the video portrays the band rehearsing. Sweet Child O' Mine sold over 5 million records and is arguably one of the greatest  songs in rock history. The guitar solo by Slash is praised by fans and musicians alike, and it is ranked #37 on Guitar World's "100 Greatest Guitar Solos." The song's composition came from an initial exercise by Slash performing a circus melody, and it evolved into a grander piece with the addition of chords, a bass line and lyrics by Axl inspired by his girlfriend Erin Everly.
Axl can also be seen wearing this necklace in promotional images, which were taken by legendary photographer Neil Zlozower for the "Appetite for Destruction" album and world tour. The images are iconic in their own right and have been used on their album covers, posters, and featured in various magazines since 1987, most notably on "Rolling Stone Magazine".
Additional images from the same photo shoot can be seen on "Spin Magazine" September 1994, "Blast" November 1988, "Faces" April 1989, and "Hit Parader" March 1989. From a different shoot, the necklace can be seen on the cover of "Smash Hits" Magazine November 1988.
Necklace seen on Axl Rose from another photo shoot and while performing at a club on the Sunset Strip in the late 1980s.
STAGE WORN WATCH
Worn during live performances as well as the same photo shoot of the necklace by photographer Neil Zlozower. Like the keychain necklace, this watch was also featured on the same Rolling Stone Magazine cover,"Spin Magazine" September 1994, "Blast" November 1988, and is seen in best detail on "Rock Hard" Issue No 1.
Made by "Lorus", this quartz watch includes the character "Mickey Mouse". A stainless steel deployment clasp unlocks the bracelet to open and close the accessory. Paint chipping from the metal is evident from frequent use on the face of the watch.
Axl wearing keychain and watch while performing on stage at the Troubadour July 11, 1986. Photos by Marc Canter.
Both Axl Rose items were acquired from the collection of Erin Everly, his first wife.
SLASH
SIGNATURE LEATHER JACKET
 
  
This jacket was worn by legendary rock and roll guitarist Slash (Saul Hudson) of the iconic rock band "Guns N' Roses". The black leather fringed motorcycle jacket includes multiple zippers and a silver snake pin on the right lapel. At some point, the original red satin lining was replaced with a blue satin lining.
Slash purchased this jacket in early 1986 and wore it during the club show performances prior to Guns N' Roses signing with Geffen Records in March 1986. Marc Canter, Slash's childhood friend, photographed all of the G N' R club shows documenting their rise to fame. His photographs document Slash wearing this jacket during performances at The Troubadour, Fenders Ballroom, The Roxy, The Cat House, and Arlington Theater.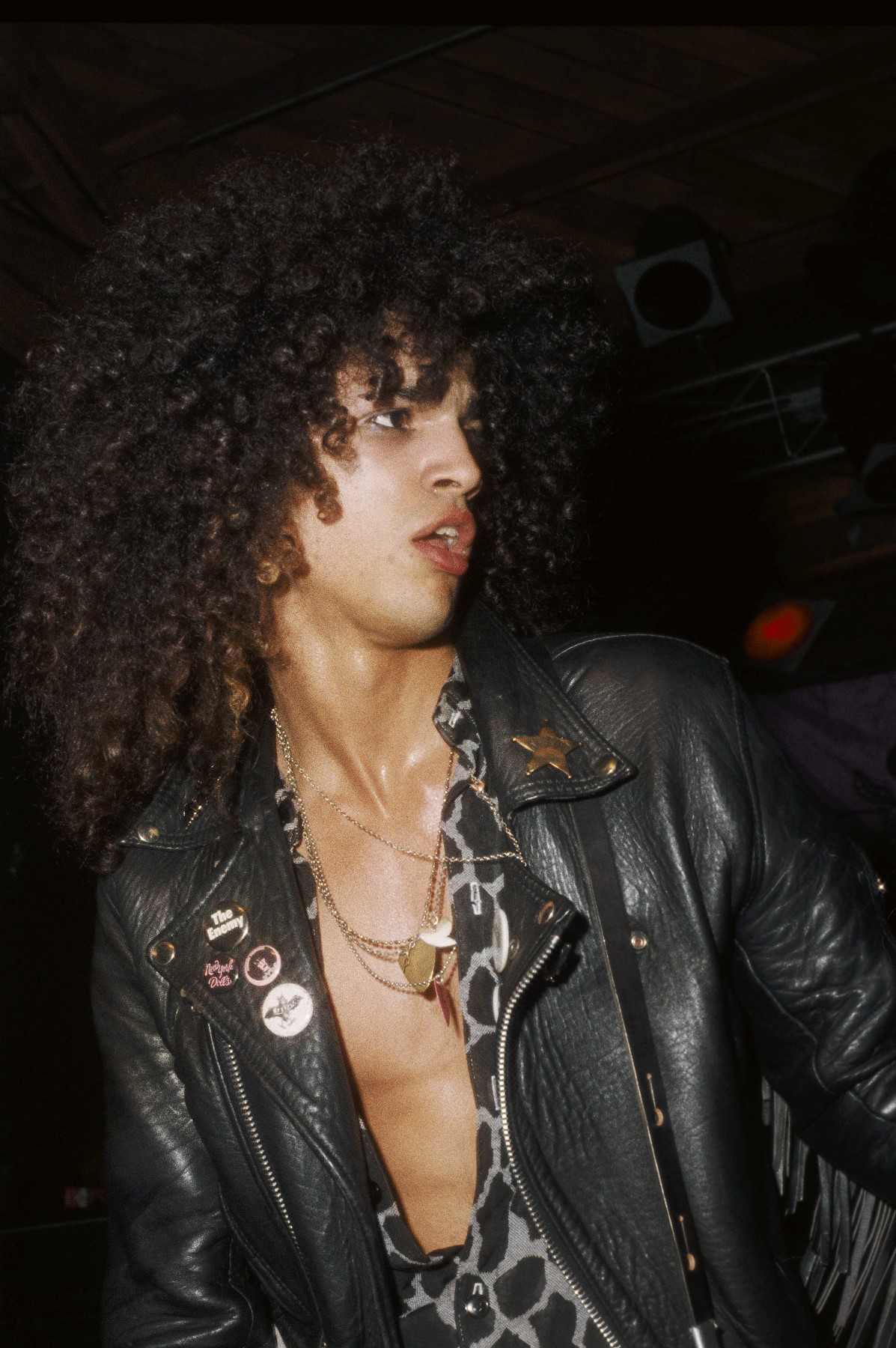 Troubador – February 28, 1986. Photo by Marc Canter.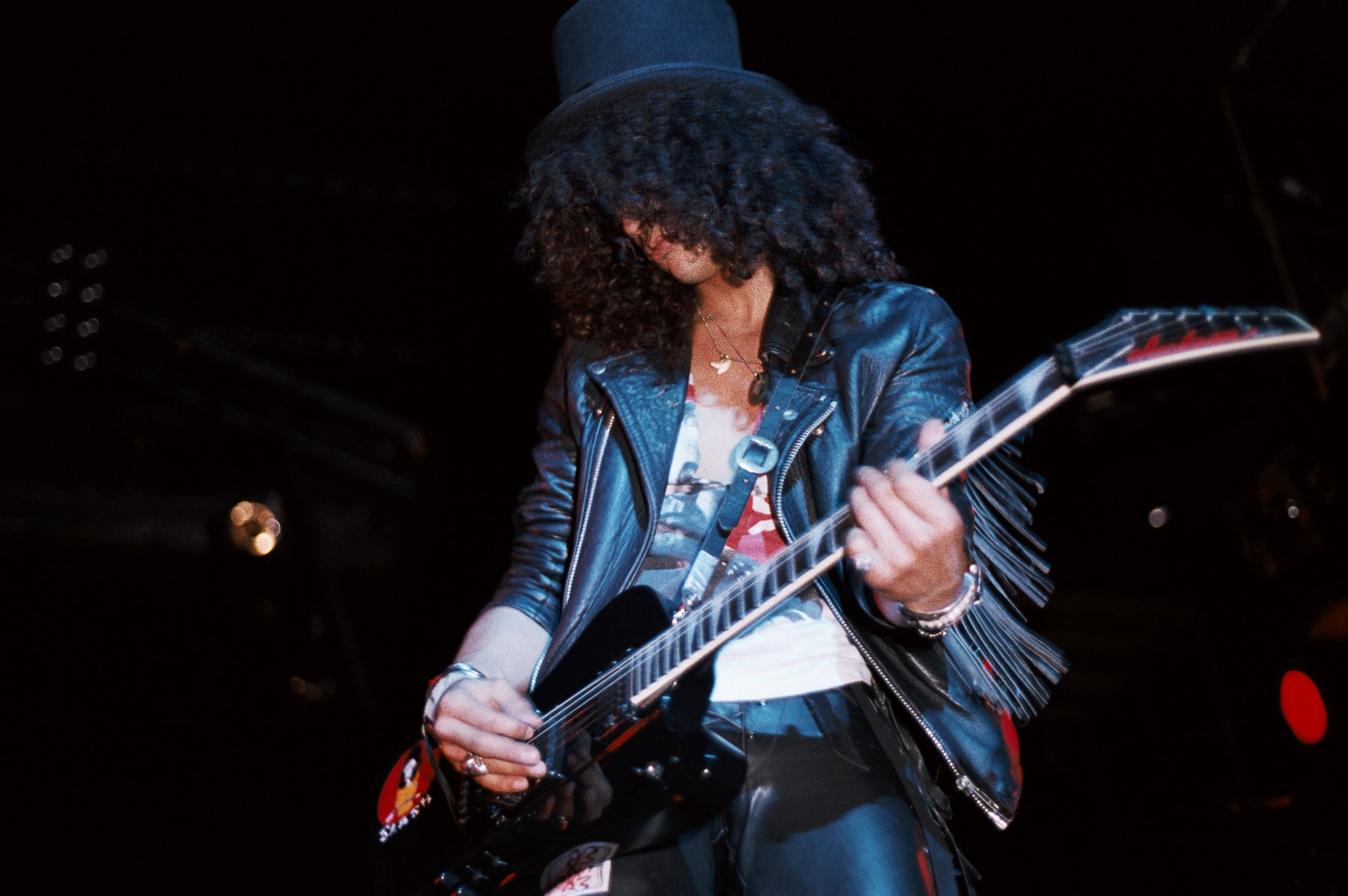 Arlington (Santa Barbara) – October 23, 1986. Photo by Marc Canter.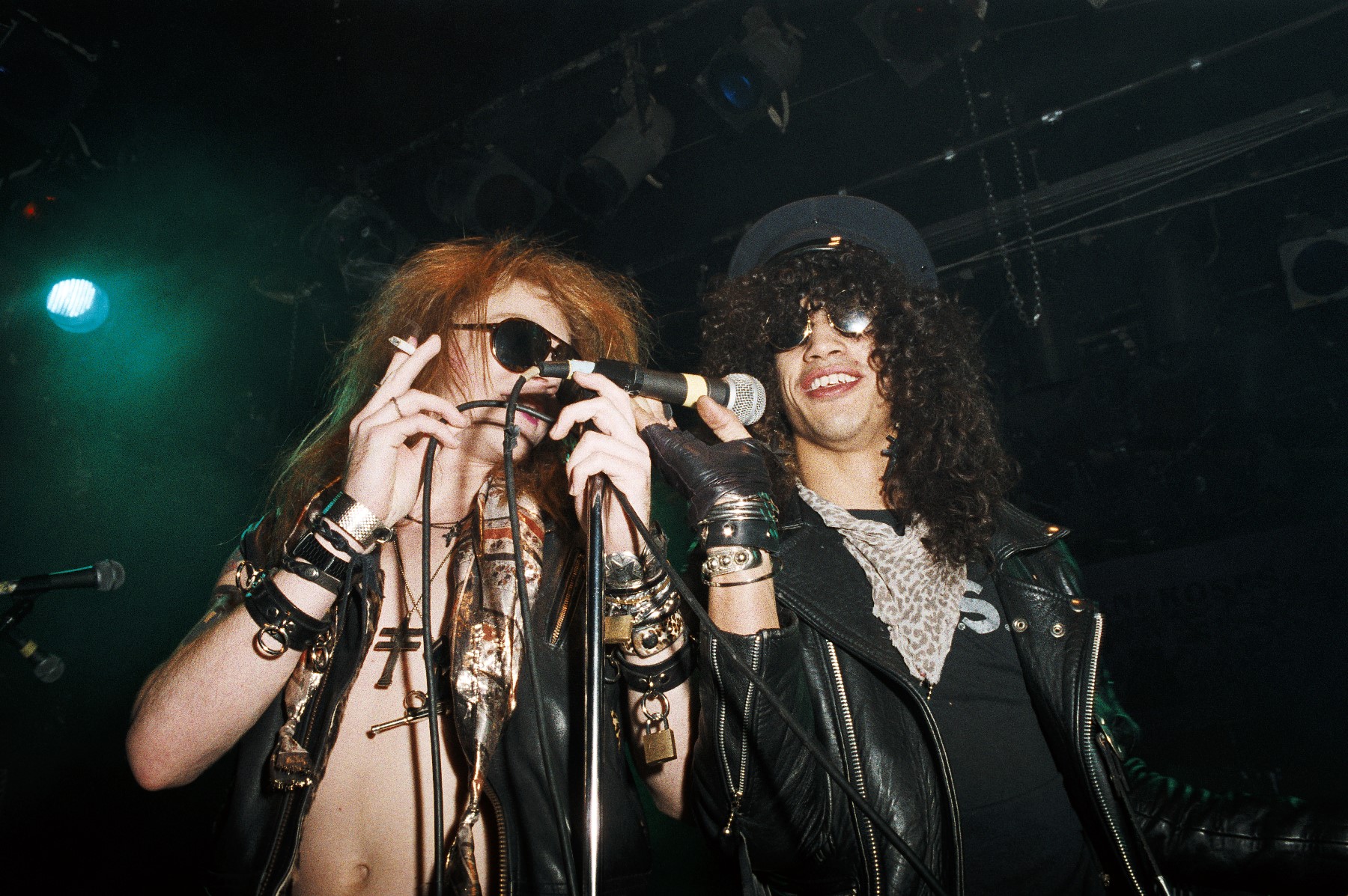 The Roxy – January 18, 1986. Photo by Marc Canter.
Slash also wore the jacket in numerous promotional photo shoots for the 1987 album "Appetite For Destruction" and is featured on the back cover in a photo by Robert John, the band's exclusive photographer when first signed with Geffen Records. Those images have been printed in hundreds of magazines and featured in other print and digital media outlets for the past 25 years.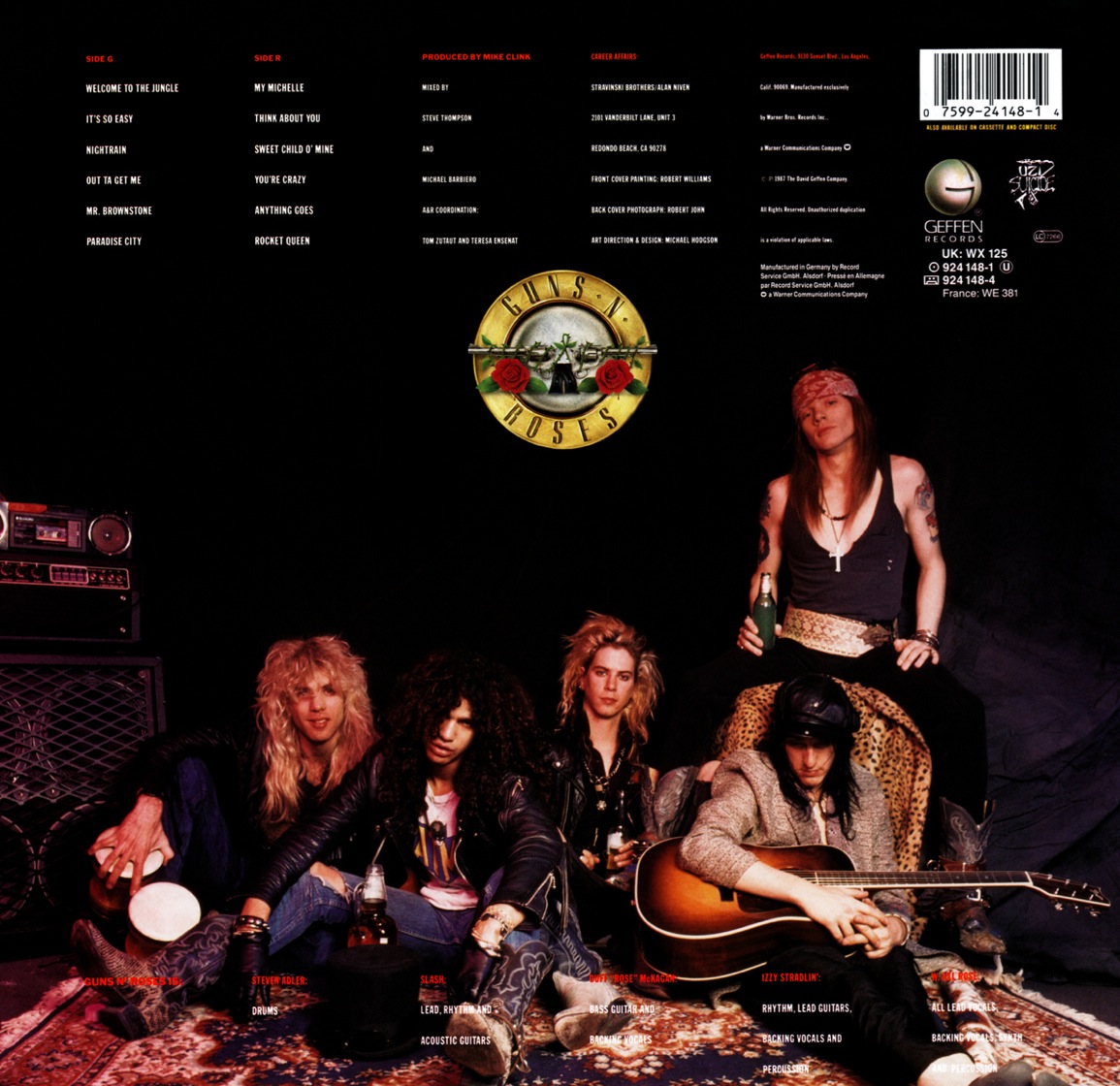 "Appetite for Destruction" album back cover 1987. Photo by Robert John.
Slash wore the jacket throughout the Appetite For Destruction world tour and while filming the "Paradise City" music video. More than half of the video was filmed at New Jersey's Giants Stadium on August 16th, 1988 in front of 77,000 people, shot by six separate cameras. Additional black and white footage was used from their performance at Donington Park in England on August 20th, 1988. Slash can be seen wearing this jacket during both performances, behind the scenes and when signing autographs in the music video.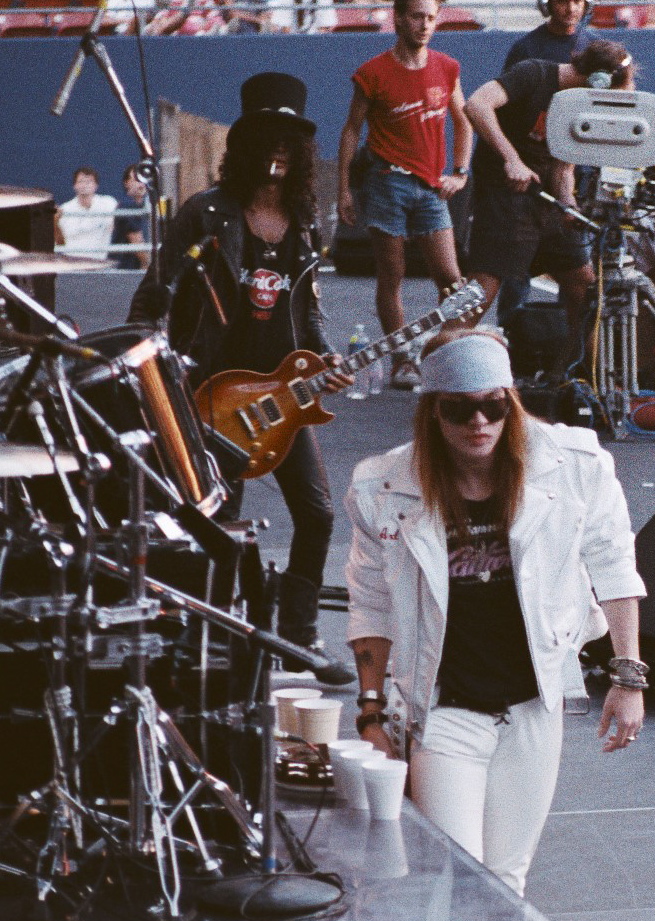 Slash performing in Donington Park, England on August 20, 1988. Screenshot from "Paradise City" Music Video.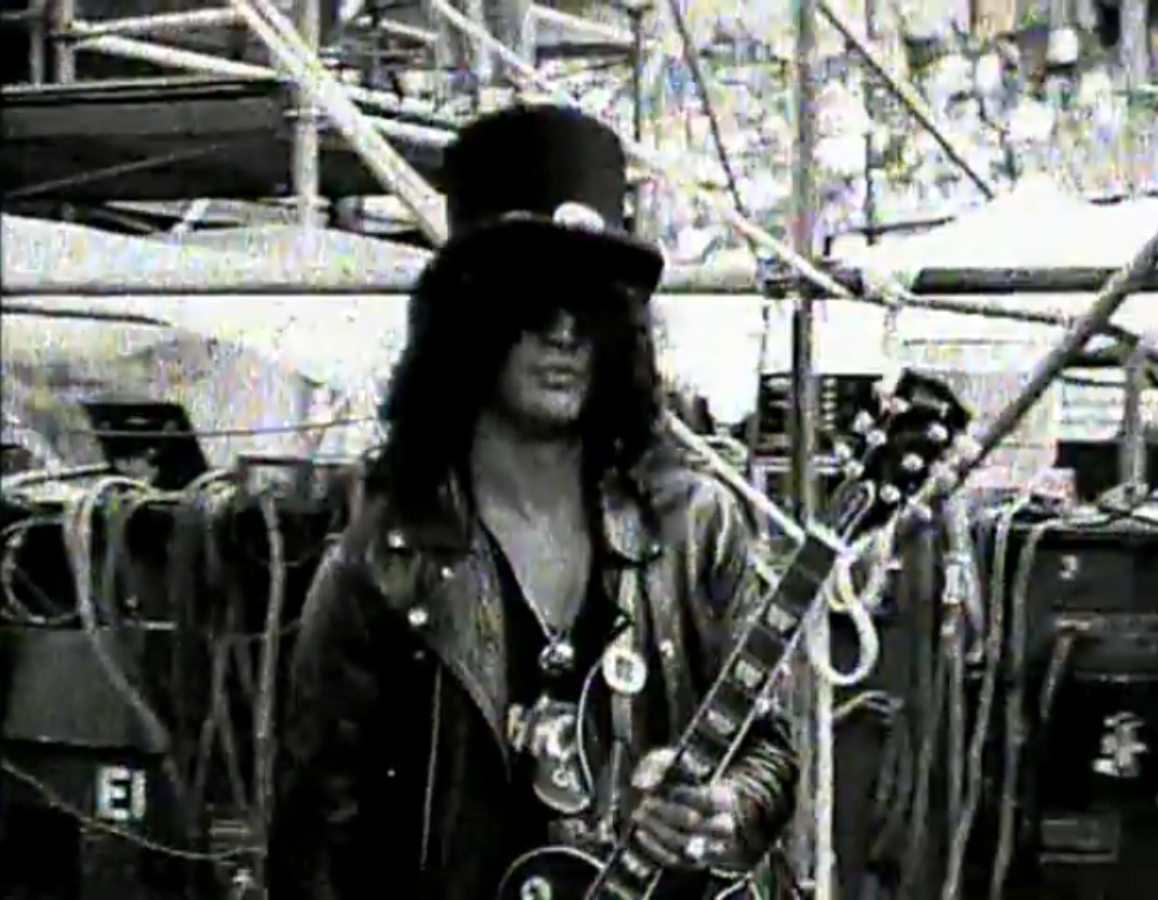 Slash on stage. Screenshot from "Paradise City" Music Video.
SIGNATURE TOP HAT
This top hat was worn by Slash when he performed at the VH1 Rock Honors show on May 25, 2006 alongside Rob Zombie, Gilby Clarke, Scott Ian, Ace Frehley and Tommy Lee. The top hat was custom made by Baron California Hats of Burbank, California and is constructed of black felt with a black grosgrain ribbon hatband. The initial "S" is handwritten in yellow marker on the hat's interior sweatband.

Slash realized very early on in his career that he needed something to visually distinguish himself from other rock musicians playing the Sunset Strip in the 80's. Slash's distinctive appearance onstage while wearing his top hat over a mop of black hair was a key factor in setting G N' R apart from other bands when the group was propelled into super-stardom with the release of their 1987 debut album "Appetite For Destruction". The award-winning musician has worn Baron top hats throughout his career, often with the sterling silver conch hatbands. No other garment or accessory better epitomizes his unique personal style. The top hat resting above a skull and cross bone is even a part of his personal signature.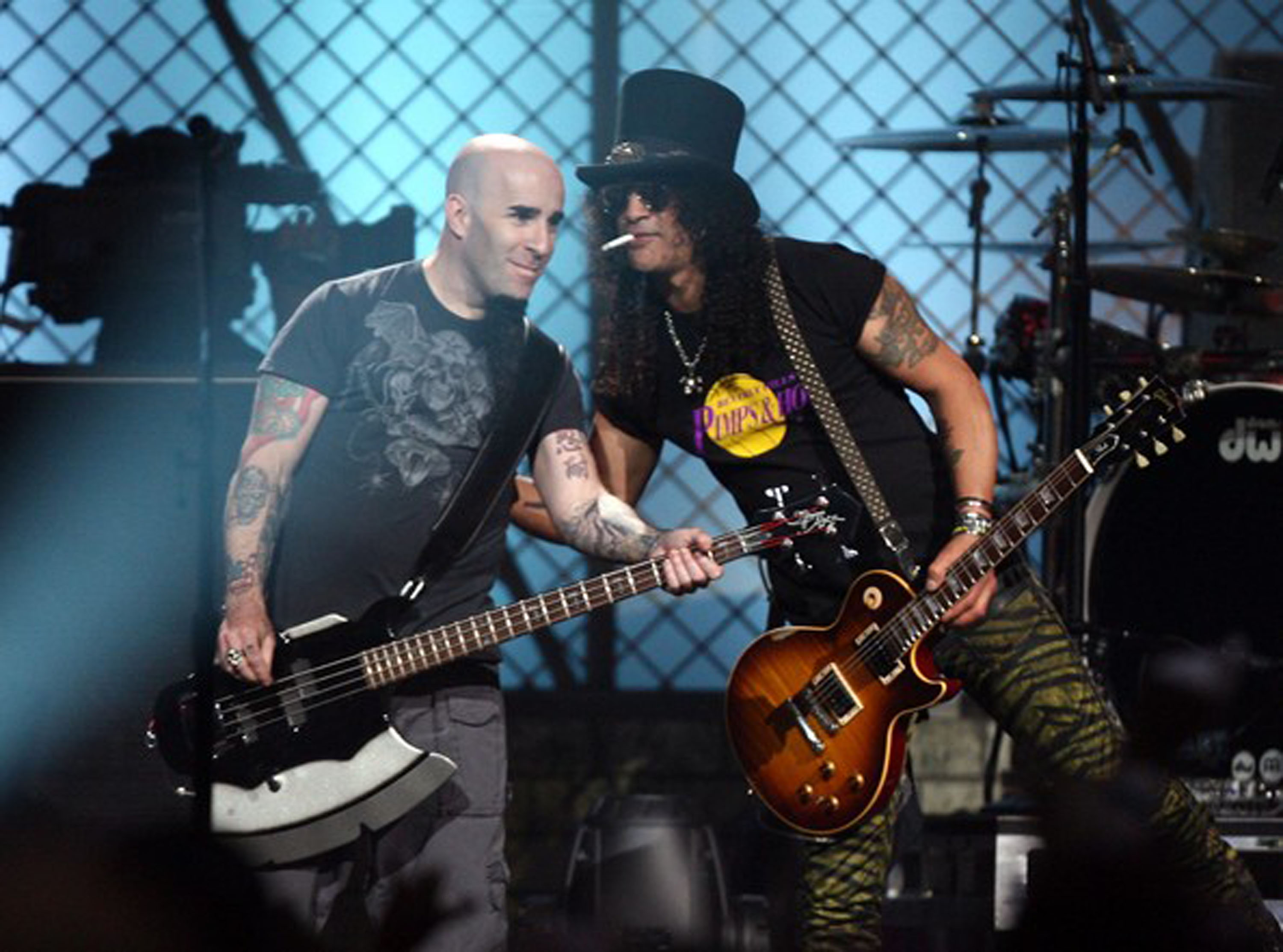 Slash performing with Scott Ian at VH1 Rock Honors show on May 25, 2006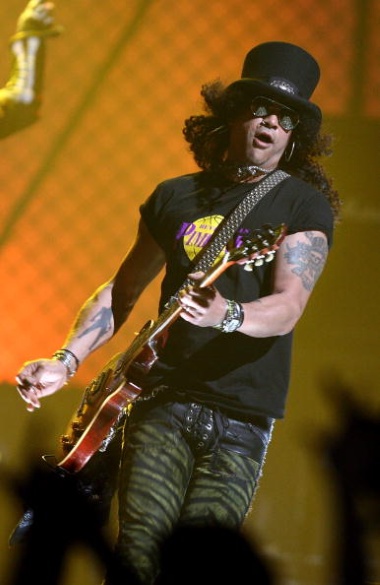 VH1 Rock Honors show on May 25, 2006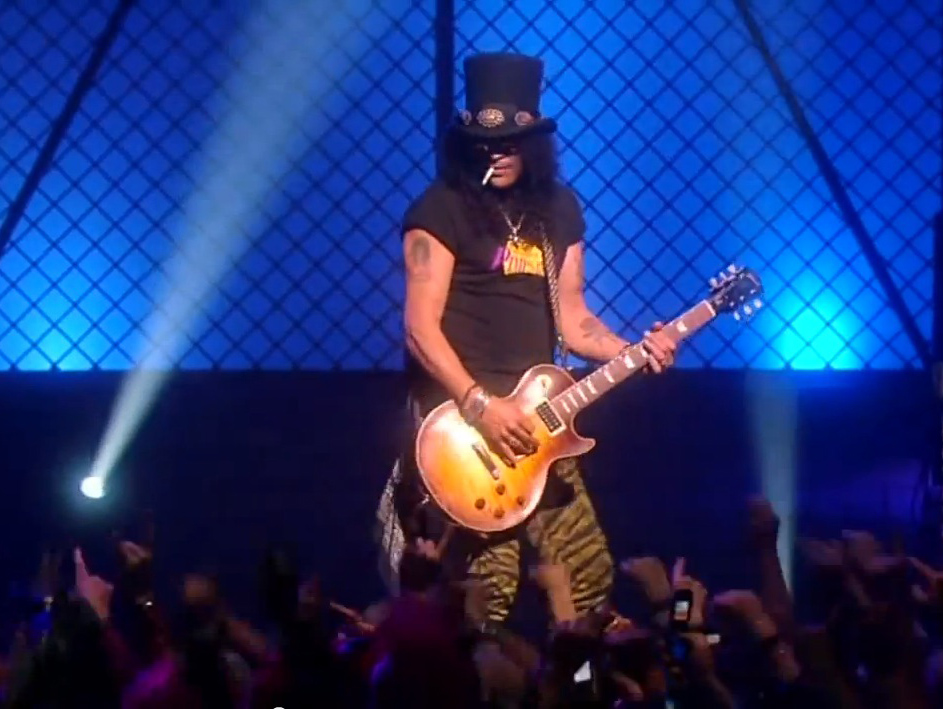 VH1 Rock Honors show on May 25, 2006
PERSONAL STAGE WORN "DEAD KENNEDYS" SHIRT
This black sleeveless cotton shirt has a white graphic of Dead Kennedy's 1981 album cover which include the words "Too Drunk to Fuck" printed on the chest. Slash can be seen wearing the shirt while performing with Velvet Revolver on August 24th, 2004 in Munich, Germany on stage at Elserhalle. This item came directly from "The Collection of Slash" from Julien's Auctions Beverly Hills on March 26, 2011.
Concert photos from Elserhalle in Munich, Germany. Slash performing with "Velvet Revolver" August 24, 2008.
PHOTOGRAPHER MARC CANTER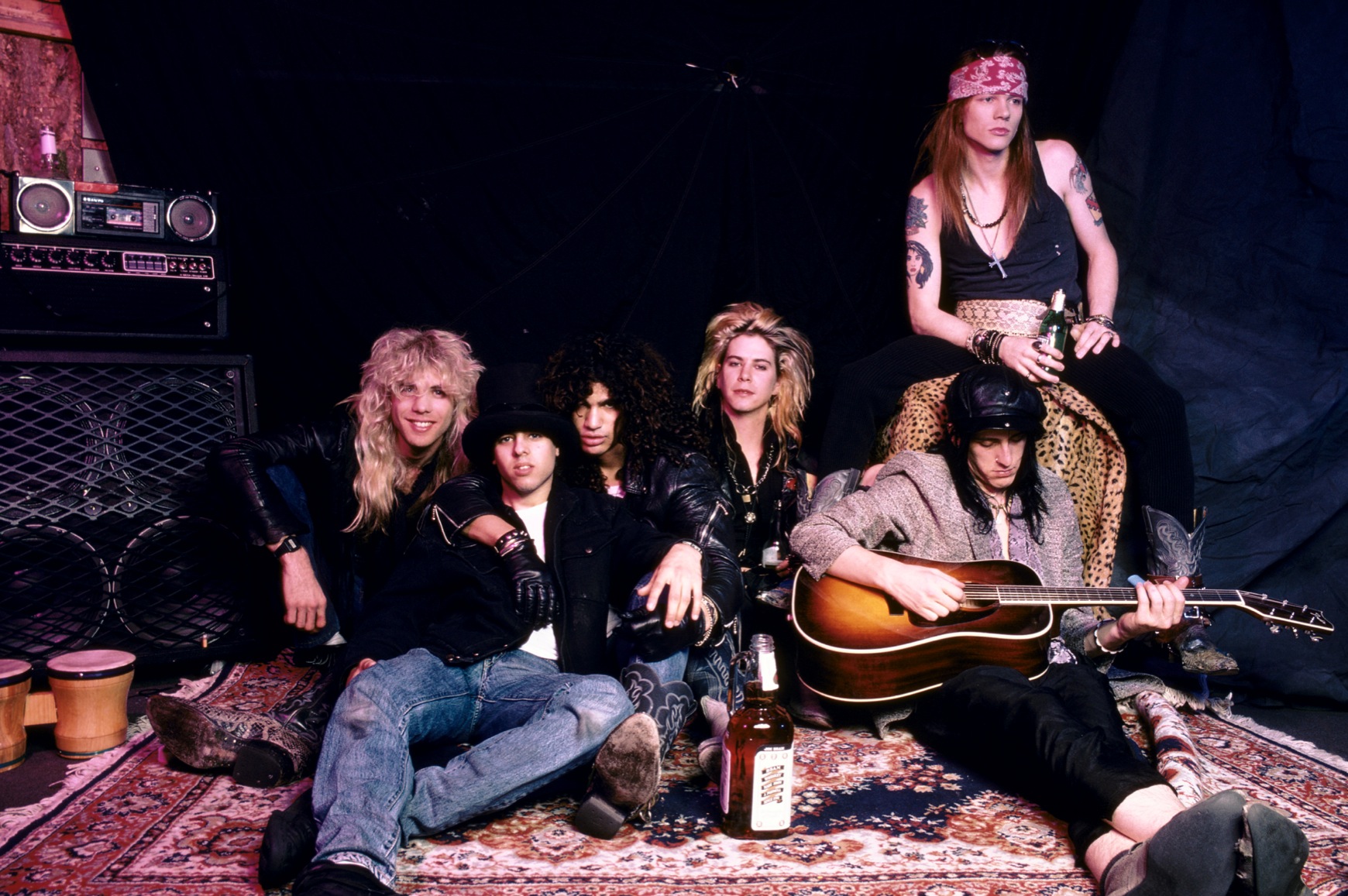 Marc wearing Slash's top hat during the "Appetite for Destruction" album photo shoot in 1987. Photo by Robert John.
Marc Canter grew up with Slash and began documenting the band in 1982. He photographed their first gigs and was the official photographer in 1985/1986, documenting over fifty performances. In 2007, Marc Canter wrote the book "Reckless Road: Guns N' Roses and the making of Appetite for Destruction". In it are never before seen photos, interviews and stories. Available in book and ebook form HERE.
SLASH'S FORWARD to the book:
"Marc and I became friends when I was stealing his mini-bike. I probably came up with some stupid excuse and managed to soften the blow a little bit and then we managed to get into a normal conversation. We started to hang out. We did fifth grade, sixth grade, then seventh grade and junior high school together and we were just really good friends – all the way up until now.
He's my best friend; one of the only good friends that is consistent. I can't nail it down in a word what makes Marc the person that he is — he is just a character unto himself. He is a really good, loyal friend and we had a lot of common interests: I was into bikes and he was into bikes. A lot of the same stuff that I got into, he was already into.
Marc was always good at taking pictures. He always kept a lot of pictures. As we got older, Marc turned into a big fan of the band Aerosmith, and he got into collecting their magazine interviews and photos and any kind of rarities he could find. So I guess at one point he started to put a scrapbook together of stuff that I was doing when I started putting bands together. He always had a camera around. Marc has been working on the peripheral forever and I just never really paid much attention to it because he just always kept shots and kept scrapbooks of everything. It's Marc's nature and it's great. I wish I were like that. I would have a clearer memory of my past. There isn't a better person to actually release any material having to do with the coming together and history of Guns N' Roses, where it went and what was going on behind the scenes." 
Marc Canter's photographs have been featured on MTV, VH1, and in magazines from around the world, including Rolling Stone. Marc is a family member of the world famous, "Canter's Deli" on Fairfax Avenue in Los Angeles, a restaurant with strong Hollywood and Rock n' Roll history since 1931. His book and selected photos of Slash are available through CantersDeliShop.com. Additional photographs by Marc are also available for purchase HERE.
Stay connected! Please be sure to follow us on Facebook, Twitter, Instagram and Pinterest.
Comments are closed.